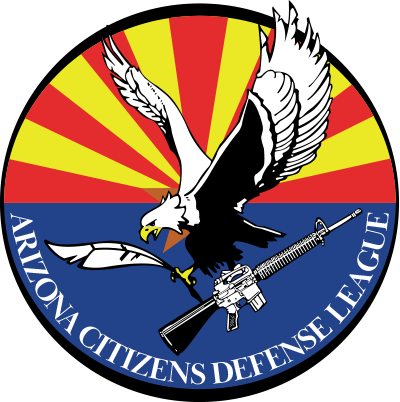 Arizona Citizens Defense League
®
If you want to protect your Right to Keep and Bear Arms in Arizona, then you want to join the Arizona Citizens Defense League ® (AzCDL)
​AzCDL is where grassroots activists take a stand, working at the Arizona legislature to get strong pro-rights bills written and passed into law, while stopping bad bills.
AzCDL believes that the emphasis of gun laws should be on criminal misuse and that law-abiding citizens should be able to own and carry firearms unaffected by unnecessary laws or regulations.
Towards that end, we are pursuing the following Arizona legislative improvements.
"Freedom to Carry" – Restore and protect the right of law-abiding citizens to carry a firearm openly or discreetly anywhere they have a right to be.
Fewer restrictions on the lawful carrying of firearms on Public property (state and local government buildings, parks, etc.).
"Restaurant Carry" – The ability of law-abiding citizens to dine out while carrying a firearm.
Continued strengthening and preservation of the right of presumed innocence in self-defense situations.
Strong State Preemption – Firearms laws should be consistent throughout the State.
Liability responsibility for property owners who ban firearms.
Continued improvements to CCW laws.
Join today – It's an investment in protecting your freedom!
Our members are the best people out there, working together to protect your rights. AzCDL donations are a small price to pay to preserve the freedoms we all cherish. Make a difference!
Subscribe to our email alerts
You'll be to first to know when something is affecting your right to bear arms in Arizona, good or bad. And, we will help you do something about it. 
Help us educate our fellow citizens at gun shows and other events on what is being done to restore and protect their right to bear arms in Arizona.  Visit our Volunteer page to learn more.
AzCDL is self-funded and fiercely independent.

We are not beholden to any national organizations or political parties.  No outsiders, no sugar daddies, no corporate string pullers, and no New York billionaires.  We are funded by your donations.
How much is "Protecting Your Freedom" worth?
The Arizona Citizens Defense League (AzCDL) is a non-profit 501(c)(4) and was founded by a group of local activists who recognized that a sustained, coordinated, statewide effort was critical to restoring and protecting the rights of law-abiding gun owners.