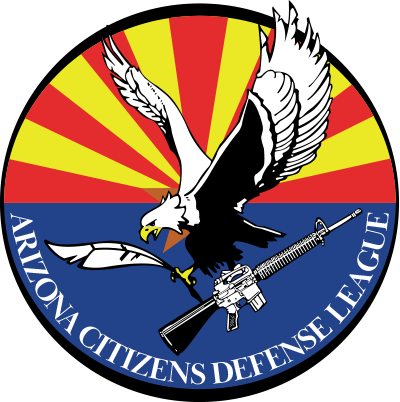 Arizona Citizens Defense League
®
If you want to protect your Right to Keep and Bear Arms in Arizona, then you want to join the Arizona Citizens Defense League ® (AzCDL)
Gun shows and other events are where we get to show our fellow citizens what is being done to restore and protect their right to bear arms in Arizona, and to invite them to make a difference by joining AzCDL.
In order to accomplish this, we need your help!
If you are an AzCDL member and can volunteer a few hours at an upcoming event, we would deeply appreciate your help.  Come on down and spend some time observing the other volunteers.  When you feel ready, step in and let other gun owners know what AzCDL can do for them.  We also need volunteers to help manage the table, hand out literature and help people fill out membership applications.  There are many ways that you can help!
What do you get for volunteering?
You play a larger role in restoring and protecting the right to bear arms in Arizona.
The fellowship of being with like minded volunteers who want to make a difference.
And…We'll get you into the event for free, so you can have even more fun while you are there.
Interested?
Fill out the form below and we will reach out to you with volunteer opportunities.
AzCDL is self-funded and fiercely independent.

We are not beholden to any national organizations or political parties.  No outsiders, no sugar daddies, no corporate string pullers, and no New York billionaires.  We are funded by your donations.
How much is "Protecting Your Freedom" worth?
The Arizona Citizens Defense League (AzCDL) is a non-profit 501(c)(4) and was founded by a group of local activists who recognized that a sustained, coordinated, statewide effort was critical to restoring and protecting the rights of law-abiding gun owners.