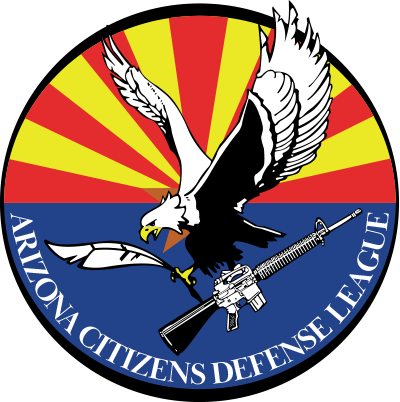 Arizona Citizens Defense League
®
If you want to protect your Right to Keep and Bear Arms in Arizona, then you want to join the Arizona Citizens Defense League ® (AzCDL)
You can join AzCDL or renew your membership and help protect your freedoms!
AzCDL is self-funded and fiercely independent.  We are not beholden to any national organizations or political parties.  No outsiders, no sugar daddies, no corporate string pullers, and no New York billionaires.  We are funded by your donations.
How much is "Protecting Your Freedom" worth?  Join today!
Life Membership
______________
Sustaining Annual
______________
Basic Annual
______________
Family Membership
______________
Please consider upgrading to a Life or Sustaining Annual membership.  Your contributions will help to further "sustain" AzCDL.  We may be  a non-profit organization, but we pay the same bills as a for-profit business.  Your membership donations pay for everything we use to educate the public and recruit new members; handouts, flyers, brochures, newsletters, gun show fees and supplies, membership processing, postage, etc.  Additionally, your donations pay for professional lobbyists at the Arizona State Capitol and for advanced services like our Legislative Action Center and Bill Tracking systems.
Please note by joining the AzCDL you are agreeing to the following statement.
"I hereby apply for membership in the Arizona Citizens Defense League.  I certify that I support the Constitution and the Bill of Rights of the United States of America and the State of Arizona.  I am not a member of any organization or group which has as any part of its program the attempt to overthrow the Government of the United States or any of its political subdivisions by force or violence."
Contributions, gifts, or membership dues are not deductible for Federal income tax purposes.
If you would like a membership application mailed to you, please fill out the following form and we will contact you with next steps.
You can also print and/or download a membership application for mailing,
in Adobe Acrobat (PDF) format, by clicking the link below
AzCDL Membership Application