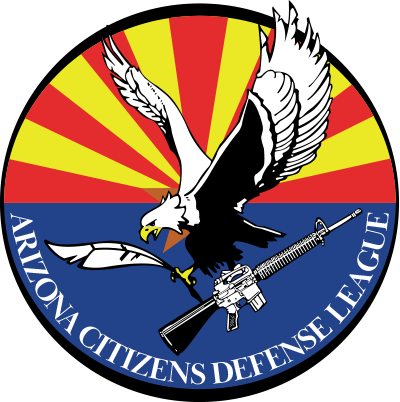 Arizona Citizens Defense League
®
If you want to protect your Right to Keep and Bear Arms in Arizona, then you want to join the Arizona Citizens Defense League ® (AzCDL)
The following businesses are proud to offer discounts to AzCDL members. 


The U.S. Concealed Carry Association (USCCA) is now offering a 15% discount to AzCDL members.  This discount is available to existing USCCA members as well new members.  To learn more, please contact Eva, a USCCA Group Membership Specialist, via email at eva.g@uscca.com or by telephone at (262) 384-4328.

Get 10% off your order as an AzCDL member!
We donate 10% of all member purchases to AzCDL every quarter.
Save money. Look good. Support local 2A initiatives.
Use promo code: SUPPORTAZCDL
AzCDL is self-funded and fiercely independent.

We are not beholden to any national organizations or political parties.  No outsiders, no sugar daddies, no corporate string pullers, and no New York billionaires.  We are funded by your donations.
How much is "Protecting Your Freedom" worth?
The Arizona Citizens Defense League (AzCDL) is a non-profit 501(c)(4) and was founded by a group of local activists who recognized that a sustained, coordinated, statewide effort was critical to restoring and protecting the rights of law-abiding gun owners.