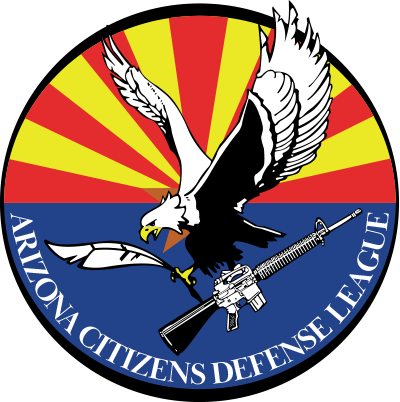 Arizona Citizens Defense League
®
If you want to protect your Right to Keep and Bear Arms in Arizona, then you want to join the Arizona Citizens Defense League ® (AzCDL)

Saturday, October 21st, 2023   11 AM – 4 PM
The Arizona Citizens Defense League (AzCDL) Eighteenth Annual Meeting of Members will be held on Saturday, October 21, 2023, at the Tucson Marriott University Park, 880 E 2nd St, 85719 in Tucson.
---
Reservations and Tickets
This meeting is open only to AzCDL members and their guests. Ticket sales will commence on August 30. 
Annual meeting tickets are $45 but, if you purchase by September 29, you can get them for only $40. Last minute tickets purchased after October 9 will cost you $50 so don't delay, get your tickets now!
Ticketing is automated and online.  If you are an AzCDL member and plan on attending this year's annual meeting, click here to purchase your tickets and make your entrée selections for yourself and your guests.  You will need to enter your membership number in order to purchase tickets, it's printed on your membership card.  If you are unsure about your membership number, or need help buying tickets, contact Tom at treasurer@azcdl.org.
Not a member? Not a problem. Click here to join AzCDL.
As with all our annual meetings, the open carrying of holstered firearms is appreciated. Please, no handling of firearms on the premises!
Please make your reservations by October 13, 2023. You can still purchase tickets until October 20, but seating is not guaranteed!  Tickets will not be sold at the door.
---
Volunteers Needed
We are also looking for volunteers to assist us during the annual meeting. If you are attending the annual meeting and are available to help, please contact Tom.
See you at the Annual Meeting!