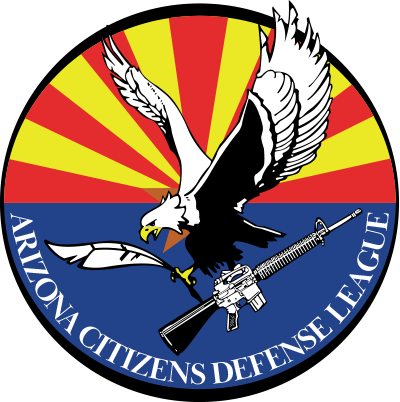 Arizona Citizens Defense League
®
If you want to protect your Right to Keep and Bear Arms in Arizona, then you want to join the Arizona Citizens Defense League ® (AzCDL)
This privacy policy discloses the privacy practices for www.azcdl.org. This privacy policy applies solely to information collected through this web site. It will notify you of the following:
What personally identifiable information is collected from you through the web site, how it is used and with whom it may be shared.
What choices are available to you regarding the use of your data.
The security procedures in place to protect the misuse of your information.
How you can correct any inaccuracies in the information.
Information Collection, Use, and Sharing
We are the sole owners of the information collected on this site. We only have access to/collect information that you voluntarily give us. We will not sell or rent this information to anyone.
To donate to AzCDL or purchase items from us, you must provide contact information (like name and shipping address) and financial information (like credit card number, expiration date). This information is used for membership and billing purposes and to fill your orders. If we have trouble processing an order, we'll use this information to contact you.
We may use the information you provide to respond to you regarding the reason you contacted us. We will not share sensitive financial information with any third party outside of our organization, other than as necessary to fulfill your request, e.g. to ship an order.
Communications (e.g., emails, etc.) that in our sole determination are not directly related to membership issues or purchases (e.g. questions of a political or policy nature, etc.) will NOT be considered confidential.  AzCDL reserves the right to share or post the content, along with the identifying information of the author, of any non-confidential communication we receive with our members, the media and the general public.  Any communication sent to AzCDL indicates acceptance of this policy.
Unless you ask us not to, we may contact you via email in the future to tell you about memberships, products or services, or changes to this privacy policy.
Cookies
We do not use "cookies" on this site.  A cookie is a piece of data stored on a site visitor's hard drive to improve your access to a site and identify repeat visitors. We do not accept responsibility or liability for cookies placed by sites associated with or linked to by this site.
Links
This web site contains links to other sites. Please be aware that we are not responsible for the content or privacy practices of such other sites. We encourage our users to be aware when they leave our site and to read the privacy statements of any other site that collects personally identifiable information.
Your Access to and Control Over Information
You may opt out of any future contacts from us at any time. You can do the following at any time by contacting us via the email address or phone number given on our website:
See what data we have about you, if any.
Change/correct any data we have about you.
Have us delete any data we have about you.
Express any concern you have about our use of your data.
Security
We take precautions to protect your information. When you submit sensitive information via the website, your information is protected both online and offline.
We also protect your information offline.  Only AzCDL Directors, Officer or volunteers who need the information to perform a specific job (for example, membership processing, billing or customer service) are granted access to personally identifiable information.
Updates
Our Privacy Policy may change from time to time and all updates will be posted on this page.
If you feel that we are not abiding by this privacy policy, you should contact us immediately by leaving a message via telephone at (623) 242-9086 or via email.
---
Please note that only the Directors and Officers listed above are authorized to speak on behalf of the Arizona Citizens Defense League, Inc. regarding any official business of the organization. This includes, but is not limited to, political issues, legislative policy issues, organizational policies and practices, media statements and press releases, etc. Other members, regardless of level, are specifically not authorized to make any statements on our behalf.