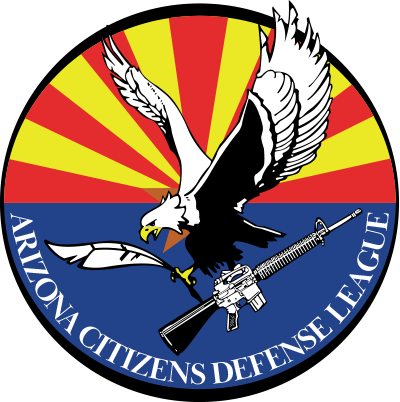 Arizona Citizens Defense League
®
If you want to protect your Right to Keep and Bear Arms in Arizona, then you want to join the Arizona Citizens Defense League ® (AzCDL)
Press, media and general queries should be directed to
Charles Heller, Charles@libertywatchradio.com, (520) 870-2700.
​Please address all correspondence to:
AzCDL Membership
PO Box 86256
Tucson, AZ 85754
Emails work best!  Just click on any of the email addresses. You can also leave a voice mail message at (623) 242-9086
Not all communication with AzCDL is confidential
View our Privacy Policy
Prospective members who wish to know more about how our organization is structured can read our bylaws for more information, or contact any of the directors or officers listed above.
Please note that only the Directors and Officers listed above are authorized to speak on behalf of the Arizona Citizens Defense League, Inc. regarding any official business of the organization. This includes, but is not limited to, political issues, legislative policy issues, organizational policies and practices, media statements and press releases, etc. Other members, regardless of level, are specifically not authorized to make any statements on our behalf.
The Arizona Citizens Defense League does NOT endorse any candidate for public office, or get involved in any elections. We are no longer associated with any political committee, and do NOT give our permission for any candidate, political committee, or other entity to use our name and logo for any purpose. Any claim of an endorsement from the AzCDL, or any use of our logo for such purposes, should be considered illegitimate, and subject to potential legal action.
We invite you join our *FREE* email & text message alerts lists, where we will keep you up to date on AzCDL activities, as well as what is going on down at the state capitol.
When legislation is moving, we'll let you know, and when you need to move with it, we'll let you know that too.