Volume 2022, Issue 3 – August 2022
2021-2022 Legislative Voting Records
During campaign season, candidates take the opportunity to "talk-the-talk," but when the legislature meets, we expect our elected officials to "walk-the-walk." Some live up to expectations, others not so much. Once again, AzCDL has tallied up the performance of our Senators and Representatives so you can make informed decisions come election day. Below are descriptions of the bills we counted, with the results following on pages 2 and 3.
2021 Bills
HB2111 2ND AMENDMENT; UNENFORCEABLE FEDERAL LAWS
[Rep. Biasiucci] Prohibits the state and its political subdivisions from using any personnel or financial resources to enforce any law, rule, or regulation of the US government inconsistent with Arizona firearms laws. Signed April 6, 2021.
HB2551 MISCONDUCT INVOLVING WEAPONS; PUBLIC PLACES
[Rep. Kavanaugh] Would exempt CCW permit holders from the prohibition on entering government-controlled property while armed.
HB2810 CIVIL ASSET FORFEITURE; CONVICTION; PROCEDURES
[Rep. Grantham] Reforms civil asset forfeiture laws to generally requires a criminal conviction before personal property can be seized. Signed May 5, 2021.
HB2840 MISCONDUCT INVOLVING WEAPONS; SCHOOL GROUNDS
[Rep. Parker] Would remove the requirement that a firearm must be unloaded when secured in a vehicle on school grounds.
SB1382 ESSENTIAL BUSINESSES; FIREARMS; AMMUNITION; SALES
[Sen. Rogers] Classifies ammunition and firearms related businesses as "essential" during a state of emergency and provides state-level liability protections to those businesses similar to those in the federal Protection of Lawful Commerce in Arms Act. Signed May 7, 2021.
2022 Bills
HB2119 CIVIL RIGHTS RESTORATION; REQUIREMENTS; PROCESS
Called for the automatic restoration of one's civil rights after successfully completing a prison term and any victim restitution associated with a first felony conviction.
HB2166 TPT; USE TAX; EXEMPTION; FIREARMS
Exempts firearms and firearms safety accessories from state and local transaction privilege (sales) taxes.
HB2316 MISCONDUCT INVOLVING WEAPONS; PUBLIC PLACES
Exempts CCW permit holders from prohibitions against carrying a concealed weapon in most public buildings.
HB2414 MISCONDUCT INVOLVING WEAPONS; SCHOOL GROUNDS
Removes the requirement for firearms to be unloaded while locked in a vehicle on school grounds.
HB2448 FIREARMS SAFETY; TRAINING; SCHOOLS
Requires school districts and charter schools to provide age-appropriate firearms safety training to students in grades 6-12.
HB2473 FIREARMS; CONTRACTS; PROHIBITED PRACTICES
Prohibits a "public entity" from entering into a contract with a value of $100,000 or more unless the contract includes a written certification that the company will not, for the period of the contract, discriminate against a "firearm entity."
SB1170 G&F; TAGS; PERMITS; TRANSFERS; REFUNDS
Allows a person to transfer a big game permit or tag to a qualified organization for use by a minor child whose parent was killed in action while serving in the Armed Forces or as a peace officer or professional firefighter.
SB1177 CONCEALED WEAPONS PERMIT; RENEWAL APPLICATION
Requires the Department of Public Safety to send renewal reminder notices to CCW permit holders at least 60 days before their permits expire. Signed into law by Governor Ducey.
SB1251 ARMED ROBBERY; DEADLY WEAPON; CLASSIFICATION
Adds to the list of actions constituting "armed robbery" to include taking, or attempting to take, possession of a deadly weapon while in the commission of a robbery.
---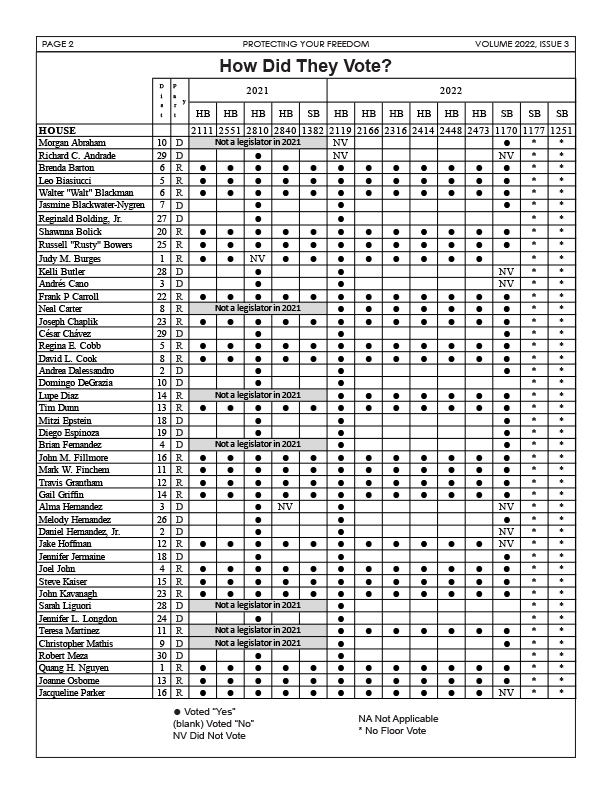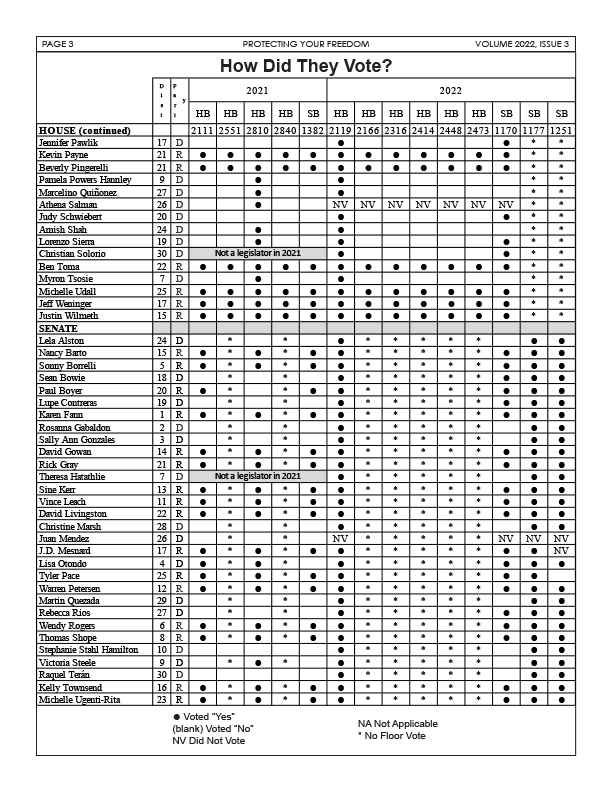 ---
AzCDL Annual Meeting
Tickets on Sale NOW!  https://azcdl.org/annual-meeting/
The Arizona Citizens Defense League annual meeting is coming up and you won't want to miss it!
Saturday, October 8th
11 AM – 4 PM
Sheraton Crescent Hotel
2620 W. Dunlap Avenue
Phoenix, Arizona 85021
Check out our confirmed speakers:
Nikki Goeser: Survived a deadly attack in a gun-free zone in which a stalker murdered her husband. In 2021, Nikki testified to the US Senate Judiciary Committee about the dangers of Red Flag Laws.
Ashley Hlebinsky: An historian and former curator of the Cody Firearms Museum, Ashley testified before the Senate Judiciary's Subcommittee on the Constitution, in a hearing titled: Stop Gun Violence: Ghost Guns.
Holly Sullivan: President of the Connecticut Citizens Defense League, Holly testified on the 2022 the Jackson-Elias Domestic Violence Survivor Protection Act, giving women who are pro self-defense a voice in the conversation.
Theresa Inacker: Communications Director and Trustee for the Coalition of New Jersey Firearm Owners, Theresa has testified before the New Jersey state legislature regarding a multitude of bills and is a writer and contributor to The Truth About Guns.
Lauren Snyder: Active in the AZLP and DC Project, she recently testified at the AZ Legislature causing Senator Lupe Contreras to famously state, "[If you are so afraid] stay at home behind closed doors".
Enjoy a delicious meal, raffles, auctions, and a chance to meet and mingle with other firearms owners. As usual, the tasteful open carry of firearms is encouraged.
---
Let George Do It, Right?
If you love that AzCDL is busy protecting your rights 24/7, it's time to volunteer and be a part of our mission
Most of us remember when and where we joined AzCDL: we went to a gun show, we saw that big blue and white banner, we walked over to satisfy our curiosity. What's this "Protecting Your Freedom" thing all about? There sat an older guy, a stack of newsletters–much like this one–some other literature and a pile of sharp looking Arizona flag-themed stickers.
Maybe you spoke to that guy, asked enough questions to determine the organization was not only 'on the level', it was probably the best chance of maintaining your right to keep and bear arms at the state level, and hold up a flashing red light to infringements at the national level.
Maybe you still come by the table to pick up a new T-shirt, or a bumper sticker, or just to shoot the bull with whomever is manning the table.
But wait–this time there is no AzCDL table at the show. The familiar faces you've seen for years weren't at the last show.
It turns out that, for the most part, the same people have been manning the same tables for almost two decades, and they're tired and burned out. In some cases they've shuffled off this mortal coil. It's time for a changing of the guard, so to speak.
Do you think AzCDL has done a good job over the past 17 legislative sessions? Do you think, in a State with over a million gun owners, we should be content with a membership of barely two percent of that total?
If you're a member who believes in what we've been doing–damned successfully–for the past seventeen years, if you have a few hours on a Saturday or Sunday and think 'George,' who's been carrying our tables for what seems a lifetime, could use a break, then VOLUNTEER!
Step up! Whatever your age, gender, ethnicity or the size of your gun safe, we need your help. Think about how much others like you would like to talk to someone just like you. There are people who want to take your rights away, no matter what you look like.
If you like talking to like-minded people, if you like gun shows, if you think your right to keep and bear arms is worth defending, contact Duke at AmericanIcon@cox.net – and we'll train you for free!
–Duke Schechter
AzCDL Director