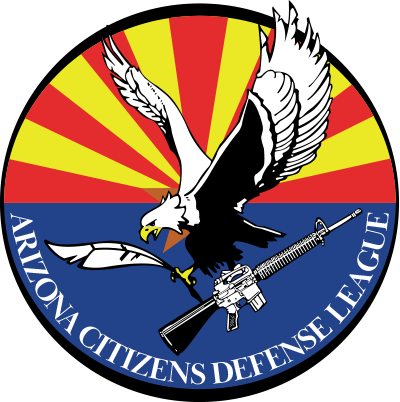 Arizona Citizens Defense League
®
If you want to protect your Right to Keep and Bear Arms in Arizona, then you want to join the Arizona Citizens Defense League ® (AzCDL)
AzCDL believes that the emphasis of gun laws should be on criminal misuse and that law-abiding citizens should be able to own and carry firearms unaffected by unnecessary laws or regulations.
Towards that end, we are pursuing the following Arizona legislative improvements
"Freedom to Carry" – Restore and protect the right of law-abiding citizens to carry a firearm
openly or discreetly anywhere they have a right to be.
Fewer restrictions on the lawful carrying of firearms on Public property
(state and local government buildings, parks, etc.).

 "Restaurant Carry" – The ability of law-abiding citizens to dine out while carrying a firearm.

Continued strengthening and preservation of the right of presumed innocence in self-defense situations.

Strong State Preemption – Firearms laws should be consistent throughout the State.

Liability responsibility for property owners who ban firearms.

Continued improvements to CCW laws.
Help us make a difference!